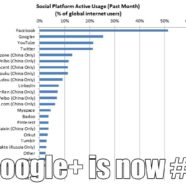 Haven't been taking Google+ seriously yet? Well, it's officially time to change your mind. According to the GlobalWebIndex, Google Plus is now the second most popular social networking service in the world, trailing only Facebook, and already surpassing both Twitter and YouTube in terms of how many active users there are on a monthly basis.
According to the survey's stats and their own demographics, Facebook has and 903 million accounts 693 million active users. They'll be hitting the billion-mark soon, and they're still lapping the field.
Google+ has 343 million active users, Twitter has 288 million, and YouTube is slightly ahead of that level.
How Did Google Plus Overtake Twitter & YouTube?
The surge of Google+ in popularity isn't simply due to the sheer presence of the seemingly all-encompassing behemoth that is the "Big G". Just think back to Google Buzz, and a variety of other product and beta-test failures, which never caught on.
Instead, Google+ is thriving due first to a quality platform, with unique and user-friendly features. You can separate your contacts into distinct "Circles", instantly launch feature-rich, multi-person video "Hangouts" and much more.
With that foundation, a slow start has been snowballing and the service is now reaching a critical mass.
That integration of Google Plus with the rest of the Google family of products and services then becomes key. Now, when you sign up for a new Gmail account, you're creating a Google Plus profile by default. If your business used to be on Google Places, now it's on Google+ Local.
What This Means For You
If you run a small business, and you're not on Google+, then the writing is on the wall. This is a place you must be, and it's only going to become more prominent and crucial to your efforts as time goes on.
So what are you waiting for? Go ahead and Follow us on Google+, or learn more about our social media services and how we may be able to help your company gain an edge over the competition in today's rapidly evolving online landscape.
Tags: facebook, google+, industry news, social networking, twitter, youtube